From the monthly archives: February 2010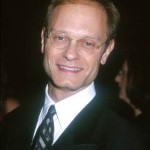 WEST HOLLYWOOD, Calif. — David Hyde Pierce is already thinking post- "Frasier", even though the popular TV show, in which he plays the title character's snobbish psychiatrist brother Niles, has just been renewed for another three seasons. After long and at times painful negotiations, Paramount, the studio that produces "Frasier", reached an agreement with NBC earlier this month to keep the hit series on the network.
But the new contract is no reason for Pierce to stop exploring other artistic opportunities — in fact, since he had a "blast" in a two-week run of the musical "The Boys from Syracuse" in LA a year and a half ago, he has decided to look seriously into musical theatre as his next potential career move…
Continue Reading

→
Nicholas Kralev is an author, entrepreneur and expert in international diplomacy, strategic communications and global aviation. A former

Financial Times

and

Washington Times

correspondent, he has traveled around the world with four U.S. secretaries of state — Hillary Clinton, Condoleezza Rice, Colin Powell and Madeleine Albright. He has flown over 2 million miles and visited 96 countries.