Currently viewing the tag: "NBC"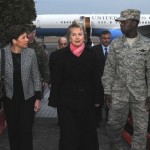 Flying more than 22,000 miles in a week filled with dozens of official meetings, public events and media interviews didn't seem to have taken a toll on Secretary of State Hillary Rodham Clinton during her much-publicized trip to Asia. How does she do it?
I've been asked the same question about three of Mrs. Clinton's predecessors I've traveled with — Condoleezza Rice, Colin L. Powell and Madeleine K. Albright. My answer is always the same, but it's not the queen-size pullout sofa in their plane's private cabin, though having a real bed in the air certainly helps.
Continue Reading

→
Nicholas Kralev is an author, entrepreneur and expert in international diplomacy, strategic communications and global aviation. A former

Financial Times

and

Washington Times

correspondent, he has traveled around the world with four U.S. secretaries of state — Hillary Clinton, Condoleezza Rice, Colin Powell and Madeleine Albright. He has flown over 2 million miles and visited 96 countries.