Currently viewing the tag: "NBC"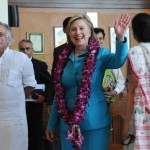 Secretary of State Hillary Rodham Clinton has delighted reporters repeatedly during her travels by speaking off the cuff, but is she also speaking off the mark?
Compared with Vice President Joseph R. Biden Jr., the former first lady and senator from New York has committed only minor diplomatic gaffes. Still, twice during her trip to Asia last month, Mrs. Clinton made comments in which the accuracy was questioned by specialists and later had to be "clarified" by the State Department.
Continue Reading

→
Nicholas Kralev is an author and expert on diplomacy, world affairs and global travel. He hosts the weekly TV program "

Conversations with Nicholas Kralev

." A former

Financial Times

and

Washington Times

correspondent, he has traveled around the world with four U.S. secretaries of state — Hillary Clinton, Condoleezza Rice, Colin Powell and Madeleine Albright. He has flown over 2 million miles and visited more than 90 countries.

Upcoming speaking engagements

APR 22, 2014 — BRATISLAVA, SLOVAKIA
APR 24, 2014 — RIGA, LATVIA
APR 28, 2014 — PRAGUE, CZECH REPUBLIC
MAY 5, 2014 — CHISINAU, MOLDOVA
MAY 8, 2014 — SARAJEVO, BOSNIA