From the monthly archives: March 2010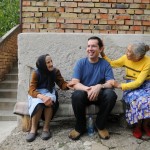 BURGAS, Bulgaria — The evening news bulletin on Bulgarian National Radio began with a familiar item: Another meeting of the Politburo of the Communist Party's Central Committee. Then the announcer uttered a sentence that left Bulgarians stunned: The country's dictator of more than 35 years, Todor Zhivkov, had just been "relieved of his duties."
It was Nov. 10, 1989. I was only 15, but understood that what had happened was not just a simple personnel change in the Soviet Union's most trusted satellite. Within minutes — though a day late — I learned of the fall of the Berlin Wall.
Last month, as I sat in the same room in my parents' apartment where I heard the news, I realized that those events had changed my life more fundamentally than anything else I have experienced before or since. Had communism not collapsed, I would never have been allowed to go to the United States…
Continue Reading

→
Nicholas Kralev is an author, entrepreneur and expert in international diplomacy, strategic communications and global aviation. A former

Financial Times

and

Washington Times

correspondent, he has traveled around the world with four U.S. secretaries of state — Hillary Clinton, Condoleezza Rice, Colin Powell and Madeleine Albright. He has flown over 2 million miles and visited 96 countries.